Articles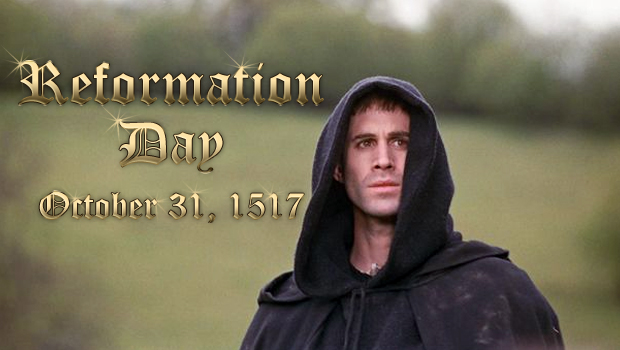 Published on October 31st, 2013 | by Jaycen Saab
Happy Reformation Day!
[Updated yearly]
Many celebrate Halloween on October 31.  However, there is much more reason to rejoice than a night of teaching our kids to take candy from strangers (insert awkward face here).  Do you know what it is?  Why, Reformation Day of course!
On October 31, 1517, while technically still a monk, Martin Luther nailed his 95 charges against the Catholic church to the door at Wittenberg.  As a result from that one bold act of faith to God's word rather than man's laborious works-righteousness system of the Catholic church, we have our Protestant faith today.  So, the best way we think to celebrate Reformation Day here at WV4G is to give you a one-stop roundup of some of the best links from around the web on the subject.  Enjoy!!
Church History: Martin Luther and the Ninety-Five Theses
On October 31, 1517, a monk and professor named Martin Luther sent a document entitled Disputatio Pro Declaratione Virtutis Indulgentiarum to the archbishop of Mainz. This Disputatio consisted of ninety-five theses for theological debate. Perhaps on October 31 or possibly a week or two later, Luther hammered the theses to the door of All Saints' Church in Wittenberg. Although the Protestant Reformation was a complex social movement with many causes, this event is frequently identified as the dawn of the Reformation.
The Reformation: Trick or Treat?
It's no accident that October 31 is both Halloween and the day remembered for the start of the Reformation. Both key off November 1, All Saints' Day — or All Hallows' Day (Hallows from the Latin for saints or holy ones).
Resource Offers: Reformation Week 2016
October 31, 2016, marks the 499th anniversary of the Protestant Reformation. To celebrate, during "Reformation Week" we have been sharing various resource offers. Today is the final day.
'I Got 95 Theses, But the Pope Ain't One' music video (Hysterical!)
9 Things You Should Know about Halloween and Reformation Day
Halloween and Reformation Day, a secular and a religious holiday, exist uncomfortably side-by-side on the calendar. Here are 9 things you should know about the October 31 holidays.
Monergism: Reformation Day
This is the "Mack-Daddy" collection  of some sermons on the Protestant Reformation
The Resurgence: Happy Reformation Day!
Printable masks of some of the biggest names in the Reformed camp.
'The Reformation Polka' (For all our Catholic friends)
Soli Deo Gloria!
JS