Reviews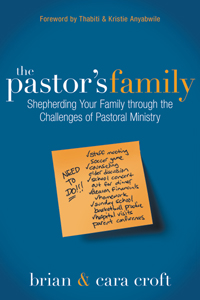 Published on February 7th, 2017 | by Jayson Byrd
0
The Pastor's Family Book Review
I'd like to give a little review and recommendation of a wonderful book on the pastor's home. This work was timely for me personally and balanced a robust biblical theology and practical application with real-world honesty. I heartily commend Brian & Cara Croft's book, The Pastor's Family to any ministry family.
The approach to this book is a husband & wife that "tag team" their writing throughout the book. I found this style warm and inviting, like sitting at a forum discussion with them over coffee. They help change the target of ministry success and expose the false dichotomy between successful ministries and family involvement.
Part 1 exposes the demands on a pastor's family. Many do not understand the unique stresses that come with the ministry and it is not worth trying to explain it to them. But for those that do, Brian hits the nail on the head. He points out (while Cara interjects) the plethora of demands imposed from without and within and exposes some of the sinful heart motives from which they come. Some of these are the relational loneliness for the pastor's family, the demands of appearance, the expectations of success and ministry "results."
Part 2 deals with the unique struggles of the pastor's wife. Ladies, you'll just have to read it for yourself. I did, however, find chapter 4 "caring for your wife" very helpful and practical.
Part 3 concerns the pastor's children. With biblical clarity and simplicity, the Crofts share practical insights to avoid neglect and shepherd the pastor's "first flock"–his kids. I enjoyed the ideas for integrating family worship with the church and hope to implement some into our family worship times. Some of the most valuable information can be found in the two appendices in the first Cara shares her struggle with depression (something very common in ministry homes) with a graceful gospel-driven, hope-filled way without diminishing the sufficiency of the scriptures. In the second, Brian gives some wonderful advice for married men preparing for ministry. Quite frankly, I wish I would have done some of these things before becoming a pastor. In the end, I felt as if I had been mentored in ministry by the Croft family.
To my friends in ministry, I would commend The Pastor's Family to you. It may be purchased at Amazon or Westminster Books.
Purchase:
Disclosure: these are affiliate links